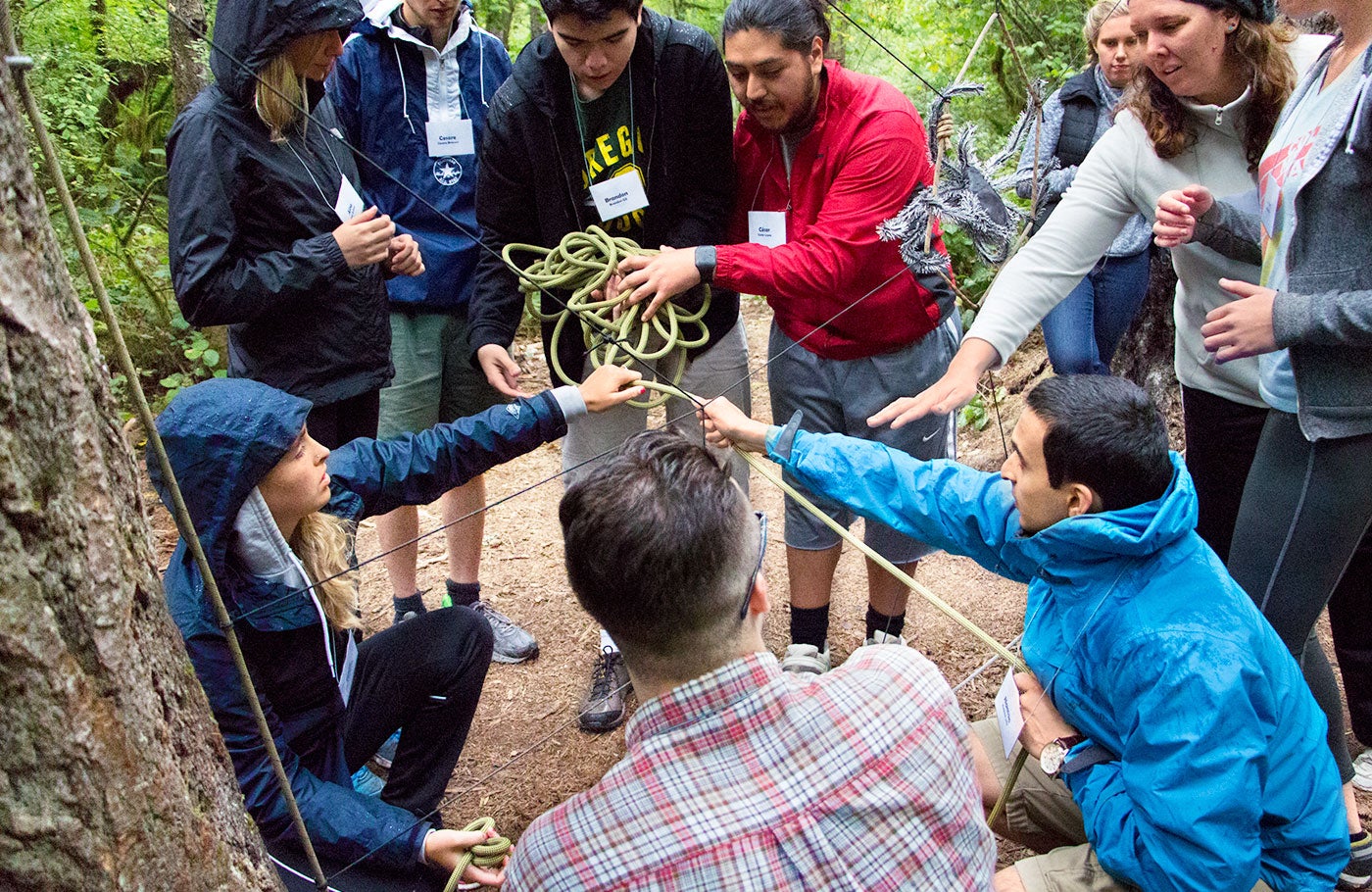 Can you learn how to change the world in four days? Whether you are just starting, or have already begun your leadership journey, the LeaderShape® Institute can help you realize your potential. This impactful four-day, 12-hour-a-day experience challenges you to take risks, discover hidden talents, develop lifelong leadership skills, and create a powerful vision for yourself and your community. Our objective is to help each participant identify something they are passionate about and create an action plan to help share that idea with friends, campus, the community, and the world. LeaderShape® Institute provides participants with the tools to effectively implement these visions once they return to campus. The only requirement to attend is a desire to improve your leadership capacity. Immerse yourself in self-discovery, community building, and new possibilities.
LeaderShape 2023
Our next institute will be held December 10–13, 2023.
Application deadline is October 23, 2023, by 11:59 p.m.
Only 60 spots will be available and open to all undergraduate and graduate students at the UO.
There is no cost to participate. All confirmed participants will receive a full scholarship to attend. Transportation, meals, lodging, and all materials are provided.
Information Sessions
Information sessions provide an overview of the four-day institute, application process, and an opportunity to hear from past participants about how LeaderShape impacts them. It is not required to attend an information session to apply; if you'd like to attend, one session is sufficient.
Attend an optional information session to learn more. All sessions will be located in the Holden Center (EMU 047):
Info session 1: Thursday, October 12, 2:00–3:00 p.m.
Info Session 2: Monday, October 16, 4:00–5:00 p.m.
Info Session 3: Wednesday, October 18, noon–1:00 p.m.
Who is the Institute For?
The curriculum was created for individuals who are committed to taking their leadership skills to the next level and want to make a significant impact on campus, in their communities, and in the world. The UO has been hosting the Institute since 2007, culminating in more than 400 graduates committed to living and leading with integrity.
How is the Institute Different from Other Conferences and Programs?
Everyone who attends the Institute engages in the same activities and contributes to the same conversations. While the involvement of the individual is honored and expected, everything during the Institute is approached with a sense of community. Everyone is viewed as a learner and as a teacher. This belief is evident as the community is created through the contributions of everyone at the Institute, with time spent in meaningful conversation serving as its foundation.  Unlike conferences, participants don't only leave the four days with a few tips and ideas, but rather graduates of the Institute experience a breakthrough in their leadership capacity.
How Will We Spend Our Time During the Institute?
Everything in the curriculum is anchored to four themes: community, inclusivity, integrity, and vision. Therefore, the work we do during the four days is tied to these concepts. We participate in large group activities, in small group exercises, in conversations with one another, and in personal reflection. Our days are typically 12 hours chocked full of connection and community. We set out to discover our most deeply held values and greatest passions and how they can come together to give our lives and work purpose. We learn how developing a vision and plan of action can create lasting change. We reflect on how our personal styles and life experiences influence our leadership and our relationships. Those who graduate from the institute leave as an agent of positive change in the world.
Why Four Days?
Four days is a lot of time to give—and we ask that time of participants because we see such value in the extended time together. Four days allows us to remove ourselves from the day-to-day demands of life and focus more intently on discovering who we want to be. It gives us the chance to move beyond the masks of our composure and embrace the opportunity to share our authentic selves. Four days for a once-in-a-lifetime experience. Four days to make the experience your own.