Holden Center Hours
Beginning in September, our office will be open Monday–Friday, 9:00 a.m.–5:00 p.m. We're located on the ground floor of the Erb Memorial Union, office space 047. You can access our center by the amphitheater entrance.
Virtual office hours are also available by appointment. Email holdencenter@uoregon.edu to schedule a time to meet with one of our staff members.
Plan for a Bright Future
Take a moment to stop and ask yourself some of life's harder questions. Who am I? What am I doing here? Where am I going? Not easy questions to contemplate. We believe that the journey to answering these questions is just as important as finding the answers. In order to find them, you must engage with the life and people around you. You must identify your strengths, connect with your passions, and envision the world that you want to live in. In short, we need people who are leaders. We need you. Don't believe us? Challenge accepted. Join us and we'll show you how to be the leader that you never dreamed you could be.
---
Being a Leader
What does it mean to be a leader? Ask three different people and you'll probably get three different answers. You may think that you already know what it means to be a leader. Your résumé is full and you are looking for your next LinkedIn update. Wherever you're at, whatever you think of leadership, one thing is for sure—it is going to change. You're going to need the leadership of tomorrow, today. But don't worry, we've got you covered. So, it's time to become the leader that you've always dreamed of being. The world is waiting.
Serving Others
Service and leadership go hand-in-hand. A leader stands at the front of the flock, but also takes time to make sure everyone is fit for flight. You envision a better world for everyone to live in, but you don't stop there. You wake up at 6:00 a.m. on a Saturday and pick up the tools to make that vision a reality. You've got a lot of choices here. So, when you're ready, your opportunities are waiting.
Donor Spotlight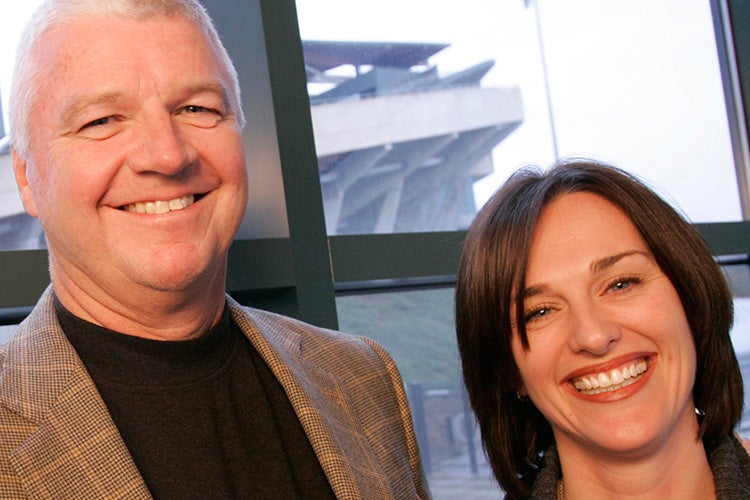 Patrick and Stephanie Kilkenny
The Kilkenny Service and Leadership Fund supported the creation of the Student Service Grant program, which provides multiple grants of up to $1,000 to help students participate in hands-on educational projects. We are honored to have their support and thank them for their committment.