Civic Engagement
One way we can engage and care for our communities is to participate actively and consistently in democracy. This looks different for everyone. There are many ways to be civically engaged; check out the information below for opportunities!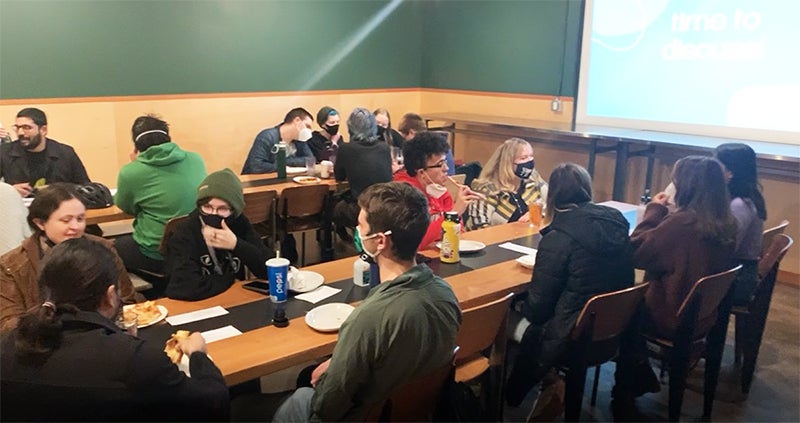 Pizza and Politics 
Does talking about politics feel uncomfortable? We want to help change that. Pizza and Politics is an event where all UO students and staff are invited to discuss political topics regardless of their prior knowledge or opinions on the topic. These conversations are casual, non-partisan, and the topic varies by each event. Pizza is provided for all participants.
Pizza and Politics is held twice a term, on Tuesday of weeks 2 and 7. The events take place from 5:00 to 6:30 p.m. in Bartolotti's Pizza in the EMU.
Tuesday, October 3, 2023
Tuesday, November 7, 2023
Tuesday, January 16, 2024
Tuesday, February 20, 2024
Tuesday, April 9, 2024
Tuesday, May 14, 2024
Amplify Your Voice: A Civic Engagement Series
Amplify Your Voice is a civic engagement-based series that takes place during four meeting sessions. Check back soon for more information about the series.
Your voice matters. This series will equip you with knowledge, skills, and motivation to enhance your voice and empower you to act directly towards creating change you want to see in our community! Through learning how to use your voice to address prevalent social issues, you can create change!
By participating, you will learn about the four pillars of civic engagement—social cohesion, civic skills, civic action, and civic commitment—and become more civically engaged. Discuss these ideas, learn how to become involved in civic engagement through tangible action items, and meet UO students who are passionate about learning how to amplify their voices.
Between sessions you will have opportunities to put these pillars into play via action items such as writing to your legislators, volunteering in service-learning projects, helping others register to vote, and more! These action items do not have set times; we will assist you in defining your route of participation.
This program is designed to build from one session to the next. However, if you want to attend only one session, that is OK, too!
Series Outline
Session 1: Intro to Civic Engagement and Social Cohesion
Session 2: Civic Skills
Session 3: Civic Action
Session 4: Civic Commitment and Wrap-up
If you have any questions about the series, please email holdencivics@uoregon.edu. We would love to help and are excited about your participation!
ASUO Student Government
Engaging in every level of democracy as often as we can is critical. The Associated Students of the University of Oregon is our student government working for you! ASUO delegates EMU spending and has an operating budget of more than $11 million per year. Ways to get involved include voting, running for office, applying for non-elected positions, serving in volunteer and committee positions, submitting ballot measures, and more.
UO Advocates
UO Advocates are volunteers working to ensure affordability and access to students, deliver excellent educational experiences, and promote scholarship and scientific research at the UO. Advocates are students, faculty members, staff, alumni, and community members who are working to advance legislative priorities.