Civic Engagement
One way we can engage and care for our communities is to participate actively and consistently in democracy. This looks different for everyone, whether it's voting at every opportunity, serving a local organization, providing testimony during a legislative session, or learning more about specific social issues.
We have opportunities for all these facets of civic engagement. Check them out below!
Civic Action Zine
Submit art and/or written works for a collaborative zine, organized by the Holden Center and the Craft Center. All material must contain some elements relevant to topics like conflict and conflict resolution, civic action, cooperative political organizing, and other community engagement.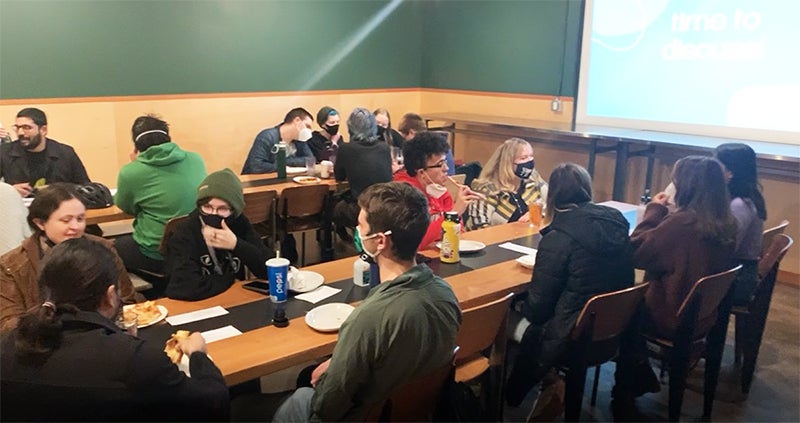 Pizza and Politics 
Does the word "politics" make you cringe? We want to help change that, and help folks be able to have conversations across differences. You can grab a slice and join us for casual, non-partisan discussion. The focus changes for each event. All students, faculty members, and staff are welcome! 
Pizza and Politics is held all year long, every Tuesday of weeks 2 and 7, from 5:00–6:30 p.m.
Tuesday, October 4, 2022
Tuesday, November 8, 2022
Tuesday, January 17, 2023
Tuesday, February 21, 2023
Tuesday, April 11, 2023
Tuesday, May 16, 2023 
Voter Registration
Have you moved recently? Not sure where you're registered to vote? Maybe it's your first time?
Living on campus? Make sure you are using the correct mailing address listed on your My Housing portal that includes your mailbox number.
---
For more info about voting in Oregon and other states while you're at the UO, and other frequently asked questions, check out the resources from UO Government and Community Relations.
Registered to vote in Oregon? 
The next election is coming up! Counties will hold elections for local governments​ in May 2023. 
Last day to register to vote: April 25, 2023
Last to submit a ballot: May 16, 2023 
ASUO Student Government
Engaging in every level of democracy as often as we can is critical. The Associated Students of the University of Oregon is our student government working for you! Check out their services for students and ways to get involved.
Student Groups and Campus Programs